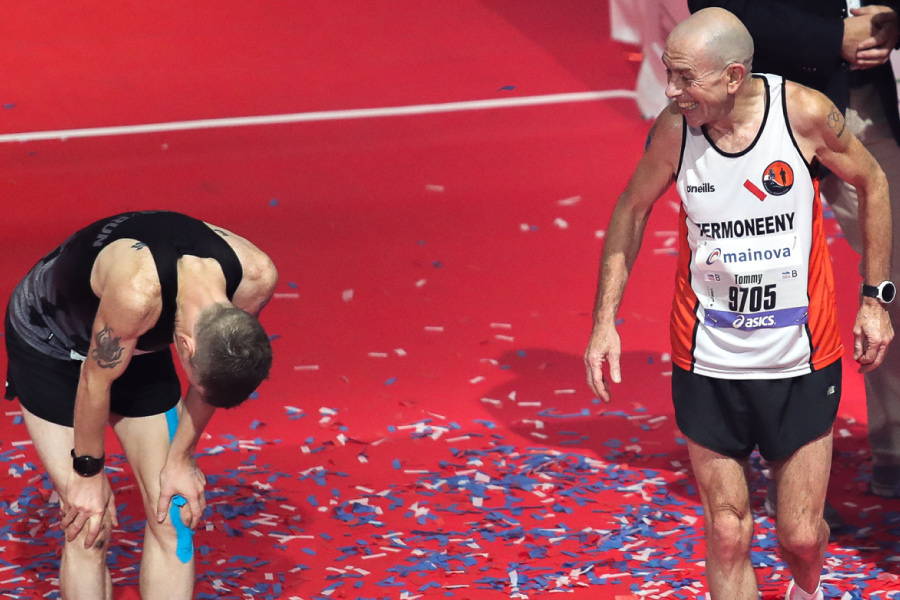 ---
SIDE BY SIDE:
TOMMY AND EOIN
Interview by Rin Hamburgh
When 60-year-old Tommy Hughes ran a marathon in the 1992 Olympics at the age of 32, he thought he had reached the pinnacle of his athletic career. But it wasn't until he began running with his son, Eoin, 35, that he discovered the joy of being part of a team when they broke the father-son world record together.
TOMMY: I started running in 1981. I was 21 and playing for the local football team so at first it was about fitness, but it turned out I was better at running than I was at football! The first marathon I ran I didn't train that hard. At 16 miles I hit a wall and I had to walk and run, walk and run, all the way to the end. But I still ran it in 3 hours 1 minute. I thought if I trained a bit harder I can get it under 3 hours. The next year I ran it in 2 hours 35 and I thought, there might be something in this.
In 1984 I got my big break, winning the Derry marathon. The following year I won again, setting a course record at 2 hours 19 minutes. They stopped it for 30 odd years after that but in 2013, when I was 53, they held it again. I ran and I won - so that's three in a row!
Going to the Olympics in Barcelona in 1992 was amazing. I'd got a stress fracture in my foot and the doctor said that it wouldn't heal in time but I was determined, I just wanted to be there. I came 72nd out of 144 but to finish in the packed Olympic stadium - that was an amazing feeling.
After that I took a bit of a break from running. I'm a self-employed electrician, so I was often working seven days a week, sometimes working away. I was also drinking quite heavily. I'm the type of character who is either totally on it or not at all, I have to work really hard to be obsessive.
None of my four children ever really took to running until Eoin started later in life. Seeing him progress was really inspiring. When he came up with this idea of going for the father and son world record I thought, "Why not?" He organised it all. That was his first real attempt at a fast marathon.
I remember coming into the last 3 or 4 miles, I knew he was struggling and I thought, what do I do? I decided I'd better run even harder. So I crossed the line before him. When he got there, I asked, "Did we do it?" because he was the one who was working out the times. And he said, "Yes, we did, we got it." It was an amazing feeling.
I've haven't had a drink in nearly a year and a half and that's a real achievement. I'm focused on running again and this year Eoin and I are planning to do the London marathon. I've just turned 60 so if I manage it in less than 2 hours 30 I'll be the first 60-year-old to do that and I'll have run that time every decade for five decades.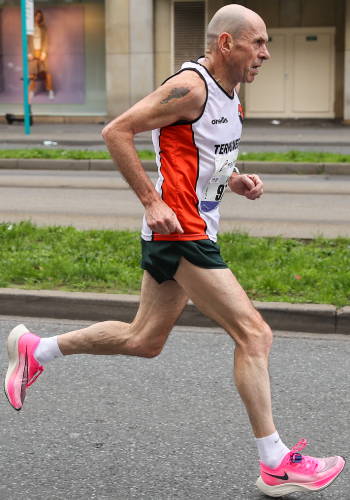 Running has definitely brought Eoin and I closer. We've always enjoyed a game of pool but this is something else. Having that father and son world record, it's made my life complete. I thought all my athletics achievements were over but that father and son one, that was the pinnacle. It wasn't an individual achievement, it was a team effort and that's what makes it special.
Having that father and son record, it's made my life complete...it was a team effort and that's what makes it special.
- Tommy
---
EOIN: I was 7 years old when my dad ran in the Olympics. I knew he was good but I had no idea how good until I started running myself and started comparing my times to his. I'm still a minute or so off him! I remember going to watch the Belfast marathon in 1998 when he won it. There were so many people watching it, it was the biggest marathon in Northern Ireland, so having him win and having so much attention around it, that was something else.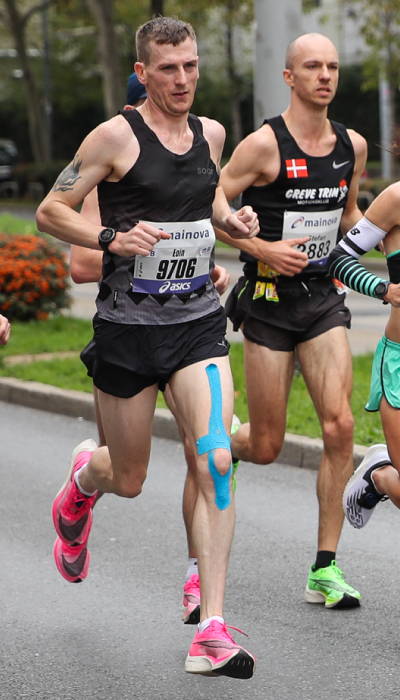 But I started smoking quite young and that took me away from the sporty side of things myself. It wasn't until about 5 years ago that I decided to give it a try. I was drinking and smoking quite a bit and I was unfit, so I wanted to change that. The first race I did was a local 10k. I ran it in 41 minutes which, for somebody who didn't run much, wasn't a bad time. So I kept going.
My dad wasn't running at the time - he struggled with alcoholism for a few years - but I always had him to call on. I asked him about training and I'd call him up and say, "My legs are sore, should they be this sore?"
Then two years ago he got back into it after about 9 years. I remember seeing him running through the town and he was so slow but I thought, "Fair play to him." We did our first race together on Boxing Day 2018; I wasn't great at that time but I still beat him, which was a proud moment for me. But now he's flying!
Getting the world record for the fastest combined father and son marathon in Frankfurt was amazing. My dad actually beat me that day. I should have been five minutes in front of him but I blew up at around 20 miles. Dad passed me with 2 miles to go and he said, "Go on, you can do it." When I got to the end he was waiting for me. That was a great day.
If you'd have said five years ago that I'd be running marathons and breaking world records, I'd have said no chance. For years my only exercise was kicking a football around every now and then. Now I'm out doing 100 miles a week.
But my dad, he's sometimes doing 130 miles a week. Last year he broke records in his age category for the marathon, half marathon, 10k and 5k. He turned 60 in January and in his first race he broke the 5k world record for over 60s.
He's absolutely an inspiration to me. I'm always looking at his time and thinking I'd love to do that. My dad went through a difficult time but for him to come through it and to be breaking records, it's something else.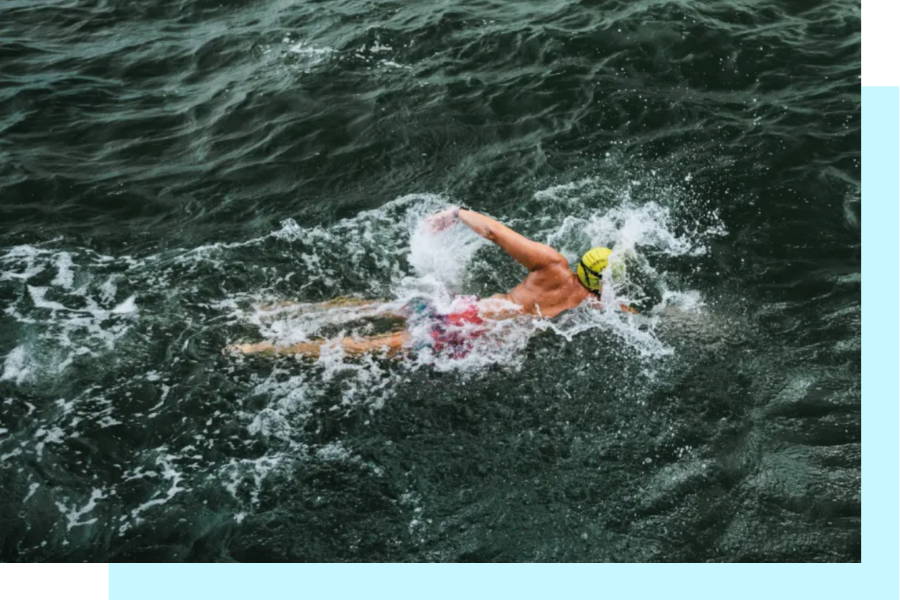 When 47-year-old Luke Richards, from Melbourne, started wild swimming, he discovered a metaphor for recovery. After years of addiction, pain and attempted suicide, the ocean offered connection, wonder and more life than he imagined possible - including a friend, Peter, who's own life he would go on to save.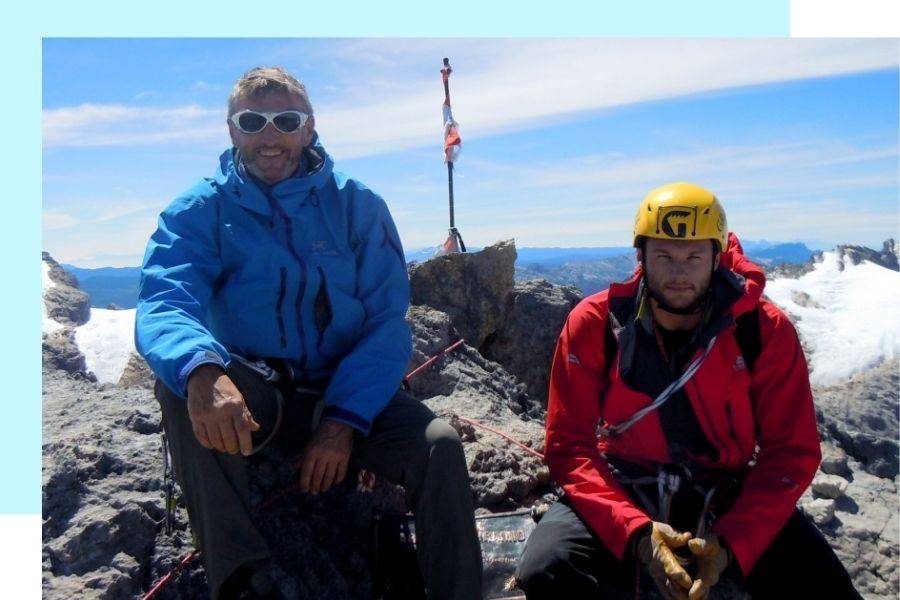 Kevin Gaskell, a 60-year-old businessman and adventurer, and his 30-year-old son Matthew, recently broke the world record as part of the fastest 5-man team to row across the Atlantic. The pair have been adventuring together since their first trip to the South Pole when Matt was just 17 - and they have no intention of stopping any time soon.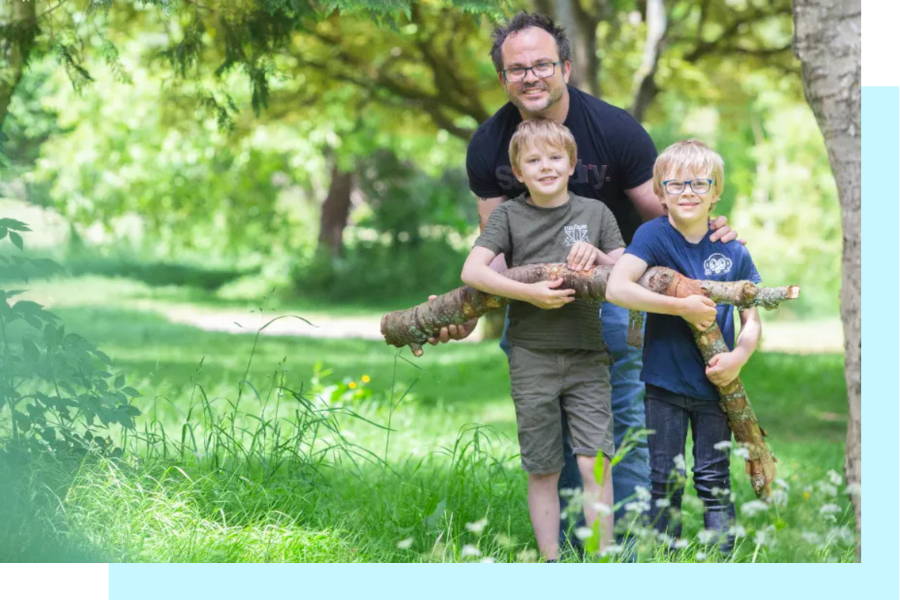 For Jamie Branch, 40, a curriculum manager and catering tutor, and his sons Zac, 9, and Elijah, 6, the global COVID19 pandemic and subsequent lockdown has been a wonderful opportunity to spend more time together enjoying climbing, skipping stones and long adventures in the woods. 
---
We love to see where our trunks are and who's wearing them, so send us your Tom & Teddy photos to contact@tomandteddy.com, or tag us with #tomandteddylife on Instagram.